The Samsung Galaxy Z Flip 5 is not just another smartphone; it's the ultimate pocketable self-expression tool. This compact device takes personalization and functionality to a whole new level, without any compromise.
Flex Window: A Perfect Fit for Every Pocket
The Galaxy Z Flip 5 features an 86.1mm (3.4″) Flex Window that has been designed with your convenience in mind. Thanks to the redesigned Flex Hinge, this smartphone folds down tight to fit as easily into your pocket as it does into your hands.
Pre-Book here – https://bit.ly/43UcLzY
The Best Selfie Experience
The Galaxy Z Flip 5 boasts an exceptional camera that offers the best selfie experience on a Galaxy smartphone yet. With the FlexCam feature, you can control your camera from your Galaxy Watch6, take zoomed-in selfies, or capture right from the Flex Window.
Customize Your Device
With the Galaxy Z Flip5, you can customize the Flex Window just the way you like it. This device offers loads of widgets, video wallpapers, clock faces, styles, and more to make it uniquely you.
Powerful Processor
The Galaxy Z Flip 5 houses the new Snapdragon® 8 Gen 2 Mobile Platform, which is the most powerful processor on Galaxy foldables yet. This processor delivers smoother graphics, faster AI, and improved battery performance.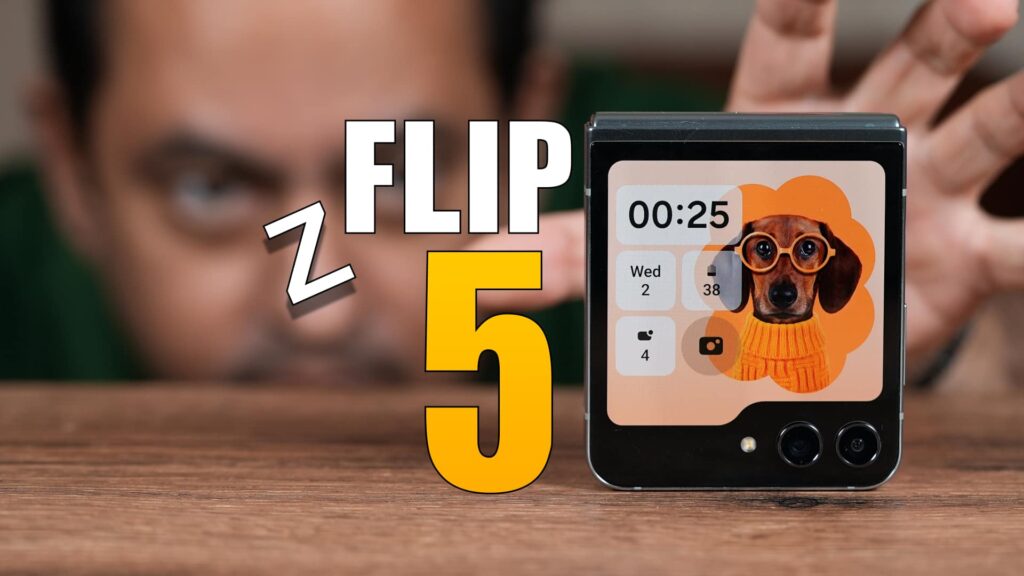 Flex Mode Panel
The Galaxy Z Flip 5 introduces an all-new Flex Mode Panel. This feature allows you to level up how you use Flex Mode with more buttons at your fingertips. You can hide or expand the panel, pull up a touchpad and cursor, and navigate through music and media with an enhanced playback control panel.
Extended Battery Life
This device comes with a 3700mAh (typical) battery that efficiently stretches out the charge so you can binge movies or game into the night. If you need extra juice, simply enable low power mode to keep the fun flowing.
Specifications
Display (Primary): 6.70-inch.
Processor: Snapdragon 8 Gen 2.
Front Camera: 10MP.
Rear Camera: 12MP + 12MP + 10MP.
RAM: 8GB.
Storage: 256GB, 512GB.
Battery Capacity: 3700mAh.
OS: Android 13.
The Galaxy Z Flip5 is priced at Rs. 99,999 in India. However, with special offers, you can get it for an effective price of Rs. 79,999.
In conclusion, the Samsung Galaxy Z Flip5 is much more than just a smartphone. It's a statement of style, a tool for self-expression, and a powerhouse of performance.