Motorola Versus Realme: An In-Depth Review of Two Exciting 5G Smartphones. This year, Motorola introduced several intriguing smartphones, including the Moto G54 5G and the Realme 11 5G. In this review, we'll delve into the details of these two models to assist you in deciding which is the perfect fit for you.
Buy here – https://www.motorola.in/
Aesthetics:
The aesthetics of a smartphone are paramount for many users, and both the Moto G54 and Realme 11 don't disappoint. While aesthetics are subjective, the Moto G54 shines with its sleek and minimalist design, blending seamlessly in various environments. Conversely, the Realme 11 showcases a more dynamic and sparkly design, appealing to those who enjoy a festive flair. Both designs have their unique appeal, so choose based on your individual style.
Size and Weight:
The Moto G54 is slightly bulkier and heavier than the Realme 11. However, this distinction becomes vital when considering battery life, as we'll explore further in this review.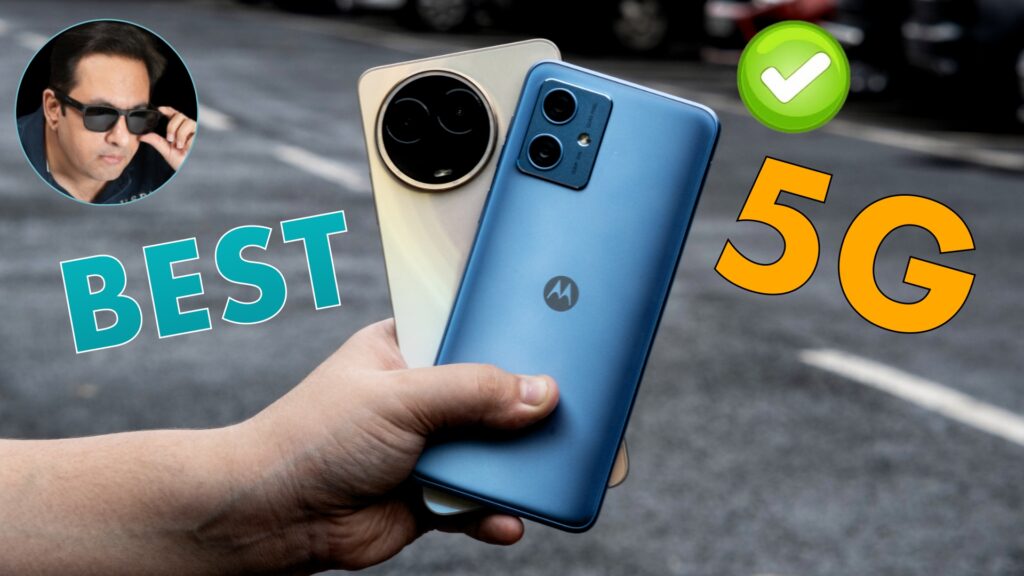 Memory and Storage:
The Moto G54 by Motorola presents more RAM options, going up to 12GB, coupled with 256GB of storage. In contrast, the Realme 11 offers 8GB of RAM and 256GB of storage. The competitive pricing of the Moto G54 makes it an enticing choice for those seeking ample memory and storage.
Performance:
Both phones are equipped with MediaTek processors. The Moto G54 comes with the MediaTek Dimensity 7020, and the Realme 11 uses the MediaTek Dimensity 6100+. With a marginally higher Antutu Benchmark score, the Moto G54 indicates superior performance, vital for multitasking and gaming.
Battery Longevity and Charging:
The Moto G54 houses a substantial 6000mAh battery, outdoing the Realme 11's 5000mAh capacity. This results in extended battery life for the Moto G54. However, the Realme 11 boasts a faster 67W charging capability, while the Moto G54 provides 33W charging.
Camera Capabilities:
Both devices boast remarkable camera systems. The Moto G54 features a 50MP OIS + 8MP dual-camera setup and a 16MP front camera. On the other hand, the Realme 11 comes with a 108MP + 2MP dual-camera setup and a 16MP front camera. The Moto G54 excels in wide-angle photography, providing a superior option for capturing wider frames.
Screen Display:
Both phones offer superb displays. However, for video enthusiasts, the Moto G54 stands out with its 6.5-inch FHD+ display and adaptive refresh rate. The Realme 11, featuring a 6.72-inch IPS LCD display with a 120Hz refresh rate, also delivers an excellent viewing experience.
Audio Quality:
In terms of audio quality, the Moto G54 leads with stereo speakers, Dolby Atmos support, and Spatial Sound technology, ensuring an immersive sound experience. On the other hand, the Realme 11 is equipped with a single speaker.
Cost:
Finally, price is a significant factor in your decision-making process. The Moto G54 starts at a competitive price of Rs. 14,499, making it an economical choice. Even the top-tier variant, the Moto G54 12GB X 256GB, is competitively priced at Rs. 17,499 with offers. In contrast, the Realme 11 5G 8GB X 256GB variant is priced at Rs. 19,999.
To sum up, the Moto G54 5G smartphone, especially the 12GB X 256GB variant, presents a compelling package with its blend of aesthetics, performance, battery longevity, and cost. It emerges as an excellent choice for users in search of a feature-rich 5G smartphone.