In a significant move, global technology giant Lenovo has unveiled its latest range of Yoga laptops in India, targeting consumers who prioritize convenience and premium experiences from more versatile and personalized technology.
Lenovo's new line-up was showcased at an event in New Delhi, where the standout product was the Yoga Book 9i. This dual-screen device is designed for touchscreen inputs and high-performance tasks, offering users 'limitless possibilities.'
First revealed at CES 2023, where it won over 50 awards, the highly anticipated convertible laptop marks a significant development for the Yoga brand. Its dual-screen versatility, multi-mode functionality, and superior entertainment capabilities redefine the category.
The Yoga Book 9i caters to the needs of today's users who require versatile technology that can keep up with their various activities – whether collaborating across devices or streamlining to fewer. Powered by the latest generation of Intel Core™ processors, the laptop allows users to enjoy the full laptop experience while taking advantage of the multitasking potential of dual screens. The dual-screen technology enables users to work on two separate files simultaneously, view both files on each screen, or watch a video on one screen while taking notes or researching on the second screen.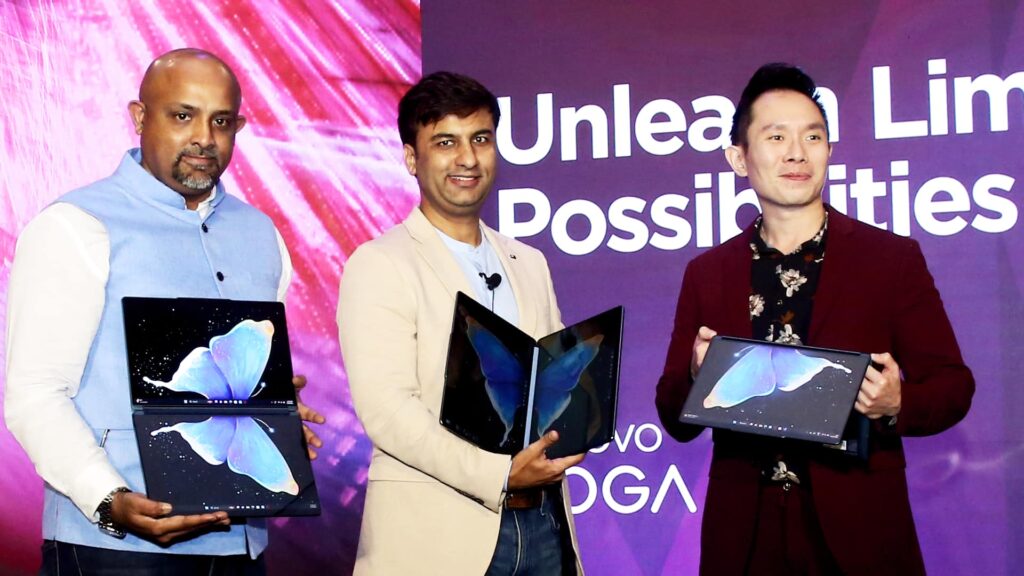 The slim and lightweight convertible form factor offers the flexibility to switch seamlessly between laptop, tablet, or tent mode. Ideal for hybrid workspaces and meetings, users can display a slide presentation on one screen while controlling the presentation from the second screen. For on-the-go usage, the Yoga Book 9i features a folio stand and a detachable Bluetooth keyboard to further enhance multitasking.
Lenovo has also collaborated with Microsoft on the device's sophisticated software, which enhances the user's ability to work, learn, stream, create, and do light gaming. The device also provides an ultimate entertainment experience with its 13.3-inch 2.8K OLED PureSight displays with 100% DCI-P3 color accuracy and Dolby Vision® HDR, delivering ultra-vivid colors, sharper contrast, and richer detail of the visuals.
Lenovo also introduced devices tailored for performance-focused content creators, including Yoga Pro 7i/7, Yoga Slim 7i Carbon, Yoga 7i/7, and the refreshed Yoga Slim 6. These latest generations of Windows 11 Yoga laptops deliver impressive performance, incredible versatility, and easy mobility in a sleek and portable design.
Dinesh Nair, Director – Consumer Business, Lenovo India, said, "Lenovo's Yoga is always transforming and purposefully innovating to pre-emptively cater to our audience's requirements, and our latest devices prove just that. Our hero product of the year, the Yoga Book 9i comes with a unique set of capabilities designed to empower creative minds to craft their own story."
The Yoga Book 9i starts at INR 2,24,999 and is available for pre-booking on lenovo.com and at Lenovo Exclusive stores starting today. Other new Yoga devices start at INR 74,990 and are available for purchase at Lenovo.com and Lenovo Exclusive Stores now. Customers can also avail attractive offers of cashback up to Rs 10,000 on select credit cards, Product Exchange Bonus up to Rs 10,000 on exchange of old laptop along with attractive finance offers from leading financial institutions.