Realme, a leading smartphone manufacturer, has recently launched its newest flagship device – the Realme 11 Pro Plus 5G. This smartphone has been creating buzz with its striking design and advanced features. I had the chance to test this device during a recent trip to Himachal Pradesh, where it drew considerable attention from passersby.
A key highlight of the Realme 11 Pro Plus 5G is its captivating design. The phone's distinct style immediately captures interest and distinguishes it from other smartphones. If you want your smartphone to make an impression, this device is bound to be a head-turner. The premium vegan leather design, featuring luxurious textures in the sunrise beach color variant, radiates elegance. A gold pattern in the center, accompanied by visible stitches, adds a touch of refinement. While Oasis Green and Astral Black are also available, the sunrise beach color is expected to be the most popular choice.
In addition to its stunning design, the Realme 11 Pro Plus 5G offers remarkable specifications. The smartphone comes with a 200MP OIS super zoom camera, equipped with a Samsung ISOCELL HP3 super zoom sensor and an f/1.69 aperture. The camera quality is outstanding, providing excellent results in various lighting conditions. Features like wide-angle mode, subject tracking, ultra-steady mode, and night mode make this device a versatile photography tool. The high-resolution options of 200MP or 50MP deliver incredible detail and clarity.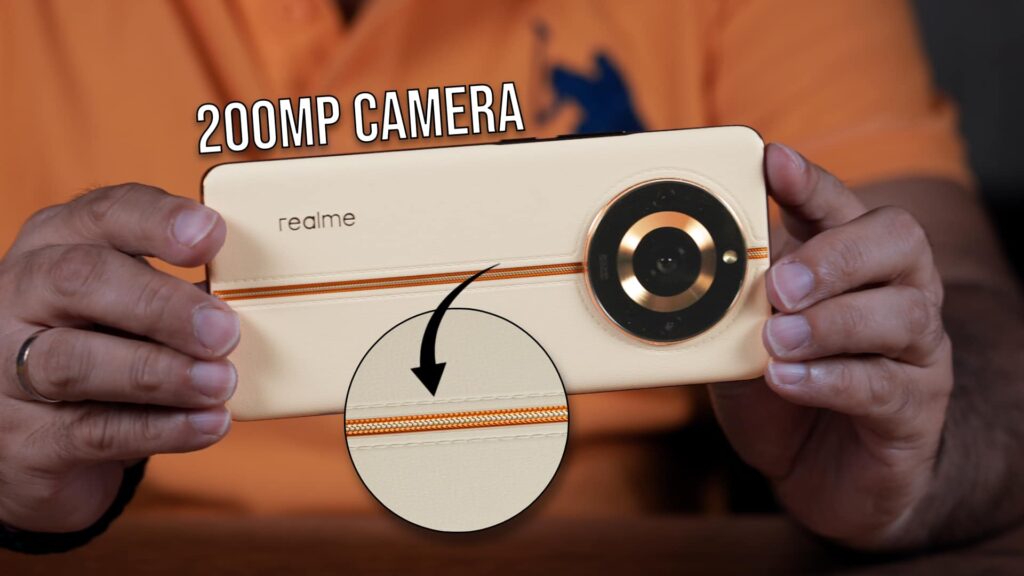 The device's display is equally impressive, showcasing a curved design and a 120Hz refresh rate. This combination provides a top-notch viewing experience with fluid visuals and vivid colors. Whether you're surfing the web, watching videos, or playing games, the Realme 11 Pro Plus 5G guarantees an immersive display.
To support these high-end features, the smartphone is powered by a MediaTek Dimensity 7050 processor with 5G support, ensuring fast and smooth performance. Moreover, the device comes with a 5000mAh battery and 100W charging capabilities, providing ample power and quick recharging when needed.
Upon unboxing the Realme 11 Pro Plus 5G, I was impressed with the complete package. Inside the box, you'll find essentials such as a sim tray ejector pin, booklets, a silicone case, a USB to Type-C cable, and a 100W charger. Realme has thoughtfully included everything necessary to begin using and protecting your device.
In summary, the Realme 11 Pro Plus 5G is an exceptional smartphone that combines a distinctive design with cutting-edge features. With its impressive camera capabilities, stunning display, powerful performance, and fast charging support, this device excels in every aspect. If you're searching for a smartphone that will not only attract attention but also provide a superior user experience, the Realme 11 Pro Plus 5G is well worth your consideration.